Scroll Down for Free Books
Save Money – Get Free Books & Deals IN YOUR FAVORITE GENRE!
********************************
$1 Fabulous Action Packed Adventure Deal! Reviewers: Reminiscent of Dan Brown's The Da Vinci Code! An engrossing Archeology thriller crafted in the tradition of Douglas Preston & Lincoln Child.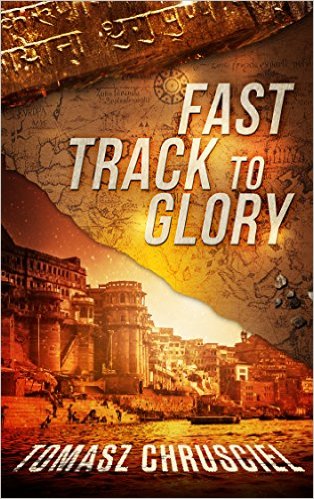 *** Adventure & Action Packed Thriller Ride
*Fast Track To Glory: An International Action Adventure Thriller (Deal, Not Free) by Tomasz Chrusciel. Price: $0.99. Genre: Adventure Deal, Sponsor, Action & Adventure. Rated: 4.6 stars on 23 Reviews. 372 pages. ASIN: B01A75N0X6. Reviewers love it: This is a cracking read! Sleepless nights guaranteed! The non-stop action-packed thrill ride takes you across the world on a fabulous adventure! Impressive! It will sweep you along into its epic journey! Unpredictable! I have never read Tomasz Chrusciel, but I now plan to read more!
Adventure Books From other Genres –
*Endless Vacation by Brad Whittington. Price: Free. Genre: Mystery, Sponsor, Murder Mystery. Rated: 4.3 stars on 51 Reviews. 331 pages. ASIN: B00C42TU3U. Reviewers: As I started this story, the action began to build until I absolutely had to keep reading! The story is exciting and has adventure, romance, betrayal and characters you love to hate. If you are looking for a good adventure or just want to plan your next vacation, then I recommend "Endless Vacation!" Enjoy this book soon, you will have an awesome journey!
**Dex: MC Biker Romance (Great Wolves Motorcycle Club Book 1) by Jayne Blue. Price: Free. Genre: Dark Romance of the Day, Sponsor, Adult Romance, Action & Adventure, Contemporary Women, Romantic Suspense, Women's Fiction. Rated: 4.7 stars on 46 Reviews. 276 pages. ASIN: B00WYDI260. Reviewers love it: Awesome! This book kept me flying through the pages! The fluid story makes the brain work hard to put together the small pieces of the puzzle as you read along. 10+ stars! I couldn't put it down! It is another addition to my growing Jayne Blue library!
**************************************
Want to Save More Money? Why Not?
Save Money & Time – Get Deals You LOVE!
Save Money & Time – Get Coupons You Love!


Save Money – Get Free Books & Deals IN YOUR FAVORITE GENRE!